Social Prescribing Service
Many things can affect our health and wellbeing; such as loneliness, stress or money problems. Sometimes it could be the stress of managing different long-term conditions.
Social Prescribing can help. It starts with a conversation, perhaps with a GP or nurse, or another staff member in the GP Practice. They can refer you to a member of our team. We are called Social Prescribing Link Workers.
Social Prescribers are here to listen to you, to put you in touch with the people, organisations and activities that aim to help you to feel better. The service is free and confidential.
Our Social Prescribers may introduce you to a community group, a new activity or a local club. They might help you find legal advice or debt counselling. They might help you find information and guidance on your situation or what local resources there are in your area.
A Social Prescriber could even support you to join something new such as a gardening club, a yoga class, a social meet up for men, or a knit and natter group.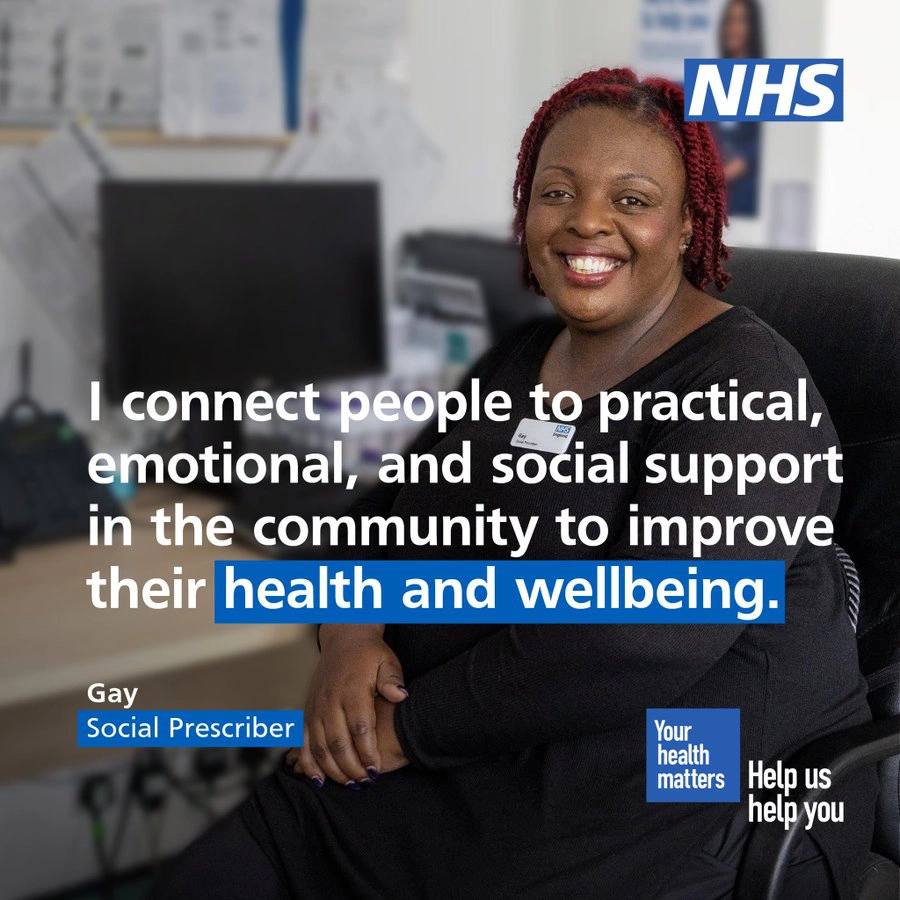 I connect people to practical, emotional, and social support in the community to improve their  health and wellbeing.
Gay
Social Prescriber
Our Social Prescribing Link Workers work with you to explore areas in your life you feel you need support.
Over several sessions we help identify what matters to you and develop a plan with you to support you to make positive life changes.
We will connect you to activities, services, social groups, and advice in and around Southwark
The service is for anyone registered with a South Southwark GP Practice

Our areas of support include
Finding a club, activity, or group
Lonely, isolated, lack of direction, low confidence
Housing, debt, and benefit issues
Mild depression, anxiety, stress, and low mood
Managing long-term health conditions
Low level addiction and recovery
Learning or employment advice and opportunities
Lifestyle changes (e.g. weight management support, smoking cessation, moving and exercising more)
Bereaved and struggling to cope
Unpaid/informal carers
Links to local ood banks and low-cost grocery options 
Our service is free and confidential
For a referral to us, speak to any member of your GP Surgery, including reception staff
What is Social Prescribing?
Social prescribing can help individuals to have more control over their own health and find ways to improve how they feel in a way that suits them. It is part of the NHS Long-Term Plan for Personalised Care.
Studies show that people get better and feel better faster than those treated with medicine alone. Our Service covers Surgeries located in the South Southwark (London) Network. Referrals are made via your GP surgery. We currently cannot accept self-referrals.
Are you a local community group interested in connecting with our service? Please contact us online.
Our Social Prescribing Team
We are a team of 12 generalist Social Prescribers and two 'Back on Track' Financial Advisors. We are each situated in GP surgeries in the South Southwark Primary Care Network.
How can I get social prescribing support?
If you would like support, ask anyone within your practice to refer you to a social prescriber – it does not have to be a GP. You will then be contacted for an initial discussion with the social prescriber so they can understand more about your situation and what is important to you.
How are social prescribers working in South Southwark?
We established our team of Social Prescribers in March 2020 and since then we have supported over 6,000 residents. We support people with a very wide range of non-medical needs. For instance, we may link you to housing advice and information,  act as your advocate with certain organisations, we may support you to navigate support around your finances, find a support group or a new activity to get you trying doing more of what you love!
A key part of our role is understanding the range of services available in your local area and how they operate. So, we have built strong relationships with organisations such as the council, hospitals, local voluntary and community groups, and are constantly looking out for new developments and changes in services.  Since we began working in south Southwark, we have partnered with local organisations such as Together for Mental Health and Citizen's Advice, to provide specialist services in the areas of mental health and debt support.
We want to reach and support as many South Southwark residents as we can. Over the past year, we have made links with community spaces in Camberwell and Dulwich. We have run pop-up clinics in these spaces to raise awareness of social prescribing amongst people that may not often visit their GP but could really benefit from the sort of support social prescribing can offer.
Case Studies
One of our social prescribers received a referral for Lorna, a retired teacher who, until the time of the pandemic, had been fairly active in her local community. She had visited her GP as she noticed that her mobility was getting worse.
She was getting more lightheaded when she was moving around and had started using a walking stick. The GP continued to support her with her physical symptoms, but noted that being more active would greatly help her regain her strength. She met with the social prescriber at her practice for an appointment.
They spent time talking about how Lorna had lost her confidence to get outside since the pandemic. She had sadly lost some of her friends to COVID-19 and consequently she was fearful of entering crowded spaces and meeting with others. Over several sessions, they focussed together on some goals that Lorna could focus on, and spent some time exploring what activities Lorna might like to connect with in future.
The social prescriber supported Lorna to contact a local community centre, one which Lorna had never heard of despite living locally for years. They held a free outdoor walking group called 'Nordic Walking' at Lorna's local park. The social prescriber supported Lorna to complete the health forms and gave her a map showing her where she needed to go.
Lorna is now regularly attending. Lorna has not only ditched her walking stick – but she's met new friends a similar age to her and is feeling healthier mentally and physically. After having a few weeks walking, Lorna feels more comfortable being around others and has felt able to attend the weekly lunch and art class the community centre also offers.
Lorna told us 'I feel like a new person. Having the time and space to explore with my social prescriber what changes I wanted to make to my life has been invaluable. My Social Prescriber helped me regain my confidence and get back out doing the things I enjoy'.
We use cookies to help provide you with the best possible online experience.
By using this site, you agree that we may store and access cookies on your device. Cookie policy. Cookie settings.
Functional Cookies
Functional Cookies are enabled by default at all times so that we can save your preferences for cookie settings and ensure site works and delivers best experience.
3rd Party Cookies
This website uses Google Analytics to collect anonymous information such as the number of visitors to the site, and the most popular pages.
Keeping this cookie enabled helps us to improve our website.